Easy to Wear Hands Free Shoes

"I ordered the Black Ember and this has changed my life. I am disabled and have difficulty with bending and can't put my shoes on it would take forever and I struggle but with these shoes I can easily get them on and take them off. I even bought 2 more pairs! They are comfortable and fabulous."
Gael Farrell
"II received my new sneakers last week and I'm amazed at how fantastic they are. The fit is perfect, putting them on is beyond easy, they're extremely comfortable to wear, the traction is fantastic in them, and by the way they look great and taking them off is just as simple. I used to be a distance runner. I have bad arthritis in my legs and in my knees and my ankles so these literally are a lifesaver. They're worth every penny they charge and I plan on getting myself two or three more pairs. I highly recommend them!"
Douglas Morosoff
"My husband has Parkinson's and he just received a pair today. It's just amazing how easy they are for him to put on compared to him struggling with a shoe horn. He still plays golf and now he wishes his golf shoes were like this. Thank you for making his life a little easier"
Deborah Birmingham
Patented 'Collapsible Shoe Heel' Technology
Zeba Shoes are designed to slip on easily and fit snugly. You only need to tie them ONCE to your liking, double knot to keep them tight, then you'll never need to bend down again! Yes, they really do feel snug on your feet like a regular sneaker. Once you try them on you're never going to want to wear other shoes again.
✅ Fits Snug and Provides Support

✅ Excellent for walking (and even jogging)

✅ Easy on Easy Off

✅ Removable Insoles accommodate orthotics / AFOs

✅ Supreme comfort for all day use

✅ Great for those with Back Pain, Recovering from Surgery, & More!

✅ Fast Free Fedex Shipping
Never Struggle With Your Shoes Again
You're Going to Love Your Zebas

If you don't love your Zeba shoes or they don't fit right, you can send them back for a full refund or exchange within 30 days of receiving your shoes.
We've shipped well over 100,000+ pairs since launching in August, 2019 (after 5 years or product development!) and our customers LOVE their Zebas and we're confident you will too. See what our customers are saying.
Every one of our shoes include removable insoles and are excellent for everyday use including walking and even jogging. They're excellent for anyone who has difficulty bending down to put their shoes on and can help anyone regain their independence if they rely on others. Zeba Shoes are excellent for those with Back Pain, Parkinson's, MS, Arthritis, Foot Drop, and those recovering from surgery. Zeba Shoes are designed for everyone, so even if you're just looking for a comfortable and convenient shoe, you're going to LOVE your Zebas. Zeba Shoes are also an amazing gift for a loved one.
Zebas fit snug, are supportive, and extremely comfy.
Our Customers Love Us On Facebook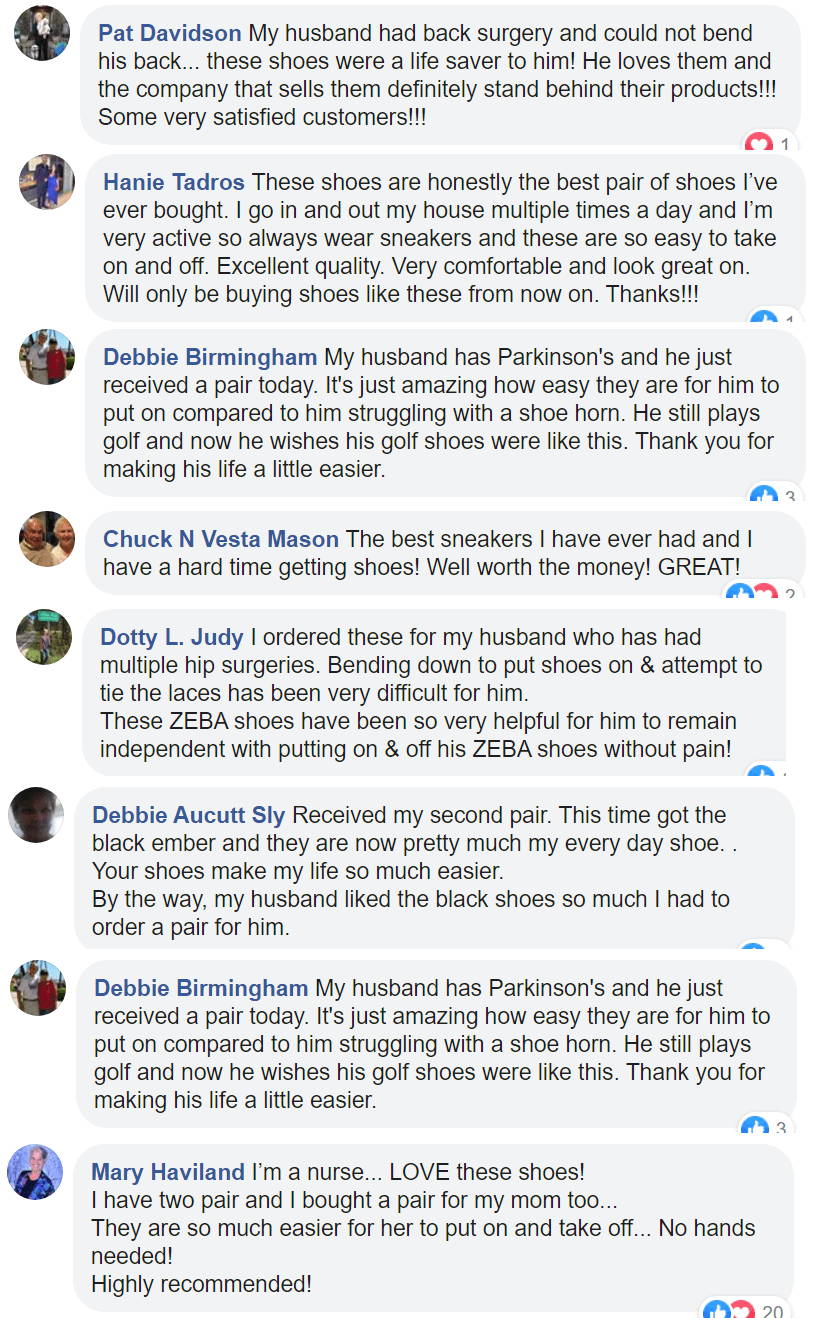 Questions? Want to Order By Phone? Call Us:
(201) 815-8852
We Have a Store in Las Vegas, NV!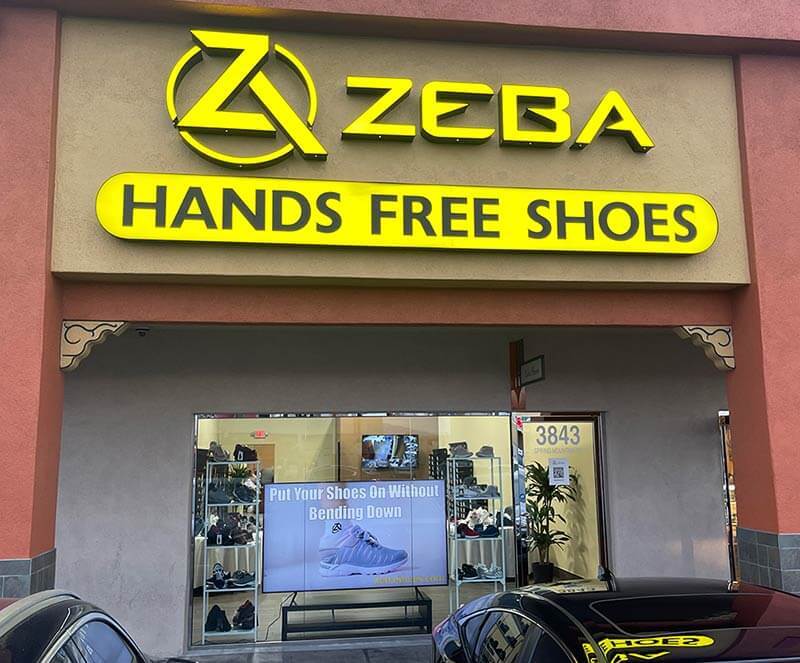 Our Store Address:
3843 Spring Mountain Road
Las Vegas NV 89102